The escalating riots that began as a protest over the shooting of Tottenham resident Mark Duggan by police, continued in London for the third straight day, and have now spread to other cities as gangs of youths seem more bent on looting than protesting social injustice. Not surprisingly, there have been comments in the mainstream media (and at least one MP, David Lammy) suggesting that social networks, Twitter and especially Blackberry Messenger, have played a role in fostering the disorder. In an article on BBC News, Iain Mackensie points out that the evidence is tangential at best and a few of the Tweets are misquoted (you would think it would be difficult to misquote a statement under 140 characters, but I guess not).
Nevertheless, social networks are just forms of communication so what exactly are we blaming here? No doubt they have helped the looters – one will not turn off a mobile device and stop IM'ing with rumors of something going on in the streets – but to lay the blame here seems to miss the point. One might as well blamed the American Civil War on the telegraph and the Civil Rights movement on television. In each case, the technologies played a role by expanding the impact of the underlying dynamics, but they were not the actual cause.
Of course, the police would like to see what people are communicating to each other. Twitter is following their current policy that requires authorities to obtain a court order or subpoena. Deputy Assistant Commissioner Stephen Kavanagh confirmed that Scotland Yard is looking into inflammatory Tweeter posts and vowing to arrest anyone who could be seen as inciting violence. On the other hand, Blackberry is cooperating with the police, tweeting last night that:
 We feel for those impacted by the riots in London. We have engaged with the authorities to assist in any way we can.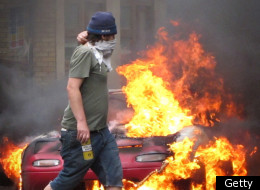 Social networks thrive on openness and that means that both supporters and opponents (or the authorities) have access to the flow of information. If getting logs from Twitter is difficult, following what is happening on the popular network is easy. Blackberry Messenger is a little more difficult, but it has less encryption than the corporate version of Blackberry email. Social networks can be powerful tools to organize protests as we have seen in the Middle East and in Europe, but they can just as easily be used by disenchanted youths out for a night of mayhem and looting. And everyone using these tools – for good or bad – exposes themselves to the authorities. The London protesters may wear their hoods to avoid identification on the near ubiquitous CCTV, but if they're on Blackberry Messenger, they may have already given themselves away.